•
"IN GRATEFUL TRIBUTE TO THOSE HEROES FROM ATHENIA
WHO GAVE THEIR LIVES FOR FREEDOM'S CAUSE"


To our lifelong friends who gave their lives for our country…
those friends with whom we grew, studied and shared
happy experiences… we dedicate our Athenia Veterans Post.

This dedication is made with a firm purpose.
Many of us have shared neighborhood club experiences before…
Athenia Boy's Club, Van Houten A.C., Richardson and Clifton Colts…
and now our own Athenia Veterans Post.

Our friends gave up their lives to help make this a better world
in which we live. We are going to help to make our community
a better one in which to live. We feel that in doing so we make our
contributions to that ideal for which they made the supreme sacrifice…
A better world.



The plaque bearing
the names of Athenia Veterans
who gave their lives in military conflicts.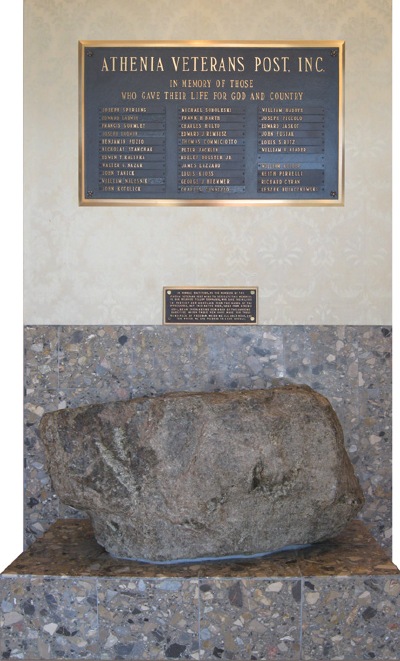 The "Rock"

In humble gratitude,
we the members of the
Athenia Veterans Post,
wish to dedicate this
memorial to our beloved
fellow comrades, who
gave their lives to protect
our homeland from the
hands of the oppressors.
May this native rock,
taken from Athenia soil
be an everlasting reminder
of the supreme sacrifice
which we hold dear, and
for which we are pledged
to ever uphold.

Remember our M.I.A.'s