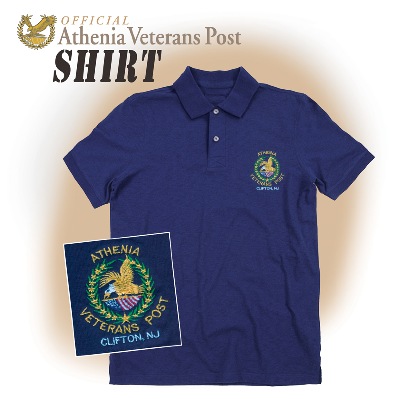 The Official Shirt of the
Athenia Veterans Post
is available for our
members only. They
are navy blue with the
colorful embroidered
emblem sewn in and
come in various sizes,
S, M, L and XL for the
price of $20.00 each.
There is also an XXL
size for $22.00 each.
We're hoping that every
member would be proud
to wear this shirt to show
their support of the AVP.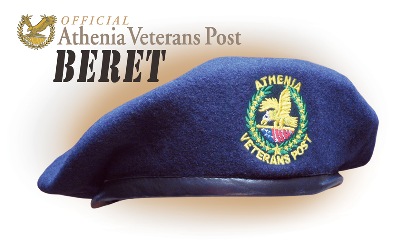 On October 17 2001,
Army Chief of Staff General
Eric Shinseki announced
that the black beret would
become standard Army
headgear the following year.
In 2002, the Army made the
tan color beret the official
beret of the U.S. Army
Rangers, and all Army
soldiers began wearing the
black beret.

For those of you who still have your 'fore & aft" caps that you wore
during your military days, you may want to consider saving it as
a military souvenir. Our information tells us that during 2001, the
US Army changed the style of caps from what you remember to
the style referred to as a "beret". But, don't worry our team here
at the Post is keeping up with the times. We have located a source
where we can also get berets for our members. The beret is dark blue
in color. What is really neat is it has an embroidered logo symbol
sewn into the front representing our Athenia Veterans Post.
The general consensus is the beret really does look "kinda cool"
and every member should be proud to wear this item. The cost of
the beret is reasonable. It is $18.00 each and comes in various sizes
to fit all of our heads. The beret is available for members only!
So, if your buddy Harry wants to get one of these – no can do!
For those who are interested in getting one of these berets (especially
if you are going to march in the annual Veterans Day parade), please
contact he Post. We're sure someone can set you up with one
of these fine head coverings!


The prices you see above are the actual cost the Post has paid per item.
The Post does not make a profit and we just want our members to benefit
and be proud to show their support of the Athenia Veterans Post.


For those of you who live a distance from the Post and still want one
or both of these fine items, arrangements can be made to have the item
mailed to you. The cost of the postage and item must be paid in advance.


The color is a navy blue (not black) and will probably appear darker than shown.



The Post now offers the above shirts in WHITE with our patch sewn
on left chest (same prices.)

We also have lightweight windbreakers in navy blue with our patch sewn
on left chest for only $25 each (sizes run big, so get the next size down.)